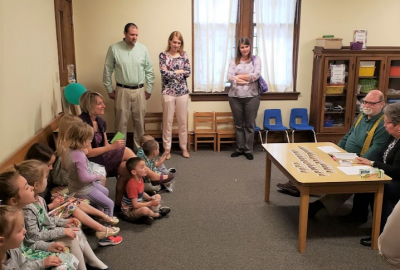 Our Children's Sunday school meets in our Children's Chapel @ 9:30 AM on Sunday mornings.   We have a paid Children's Ministry Coordinator and a dedicated group of leaders who love and teach our children about the Good News of Jesus Christ. 
Acolyte and Altar Guild Ministry
ELC children and youth play an active role in our worship services and ministry of the church.  We do have an active acolyte ministry where the kids are trained how to light the candles before worship as well as how to perform additional roles during worship.  The 6th through 8th grade youth also help with the altar guild, which includes refiling the candles and setting up for Holy Communion.
The children of ELC usually experience their First Communion in the spring of their second grade year. To prepare our children for this big milestone in their faith, we have a First Communion Class for them and their parents. This is a truly special time and it is such a blessing to see our young members to grow in their understanding of God's love and grace for them. 
Evangelical Lutheran Church

43 S. Church St.
Waynesboro PA 17268
Monday – Thursday: 9:00 AM – 2:30 PM
Friday: 9:00 AM – 12:00 PM