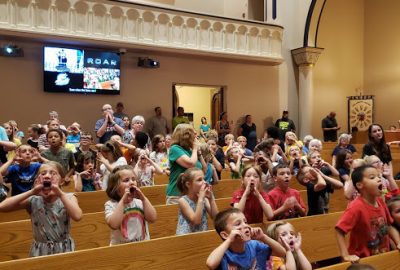 Each year our church together with neighboring congregations hosts a joined Vacation Bible School. This 5-day program starts each evening with a free dinner for the kids and their families. After dinner children play games, sing songs, and make crafts all while learning about the good news of Jesus. This joined ministry has been a wonderful outreach to our community.
The Kid's Bible Club meets the 1st and 3rd Thursday of each month from October thru May and is led by our Children's Ministry Coordinator. This is a great time for the young ones to play games and make crafts while learning about God's love. This also gives parents a chance to join our Young Adults group, who also meet during this time.
ELC has a dedicated Children's Ministry Team that plans family friendly events throughout the year. Each year we host a Family Cookout at the church cabin, a hands on Stations of the Cross event on Palm Sunday, an Easter Egg Hunt on Easter Sunday, an Advent Workshop with children's crafts, Family Movie Night and many other events throughout the year. 
Evangelical Lutheran Church

43 S. Church St.
Waynesboro PA 17268
Monday – Friday: 9:00 AM – 12:00 PM