November 19, 2022 - January 28, 2023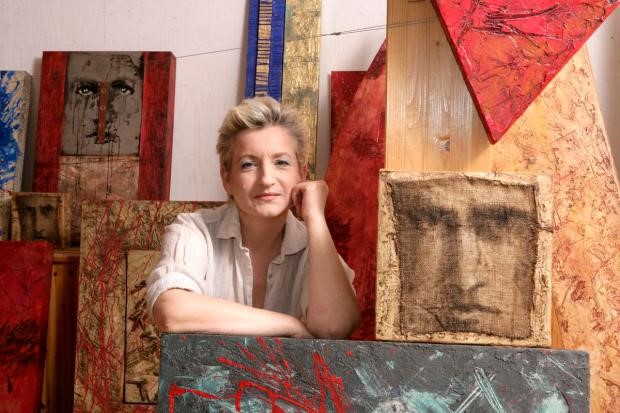 Come visit Evangelical Lutheran Church to view contemporary works by an international artist with Ukrainian-roots, Ludmila Pawlowska. She and her husband, Jan Lech, of Sweden, will be on hand for an opening reception at the church November 19th at 5 PM. This traveling exhibit has been seen by over 3 million people since it began in 1998. You can find more information on Pawlowska here.
Sat Nov 19 – 5PM Opening Reception
Thurs Dec 1, 8 & 15 – 7PM Lectures
Sun Dec 4, 18, & Jan 8 & 22 – 4PM Concerts
Sat Jan 28 – 5PM Closing Reception
Tues Wed Thurs – 10AM-1PM Self Guided Tours
Thurs – 4PM-8PM Docent Led Tours
Sun – 2PM-4PM Docent Led Tours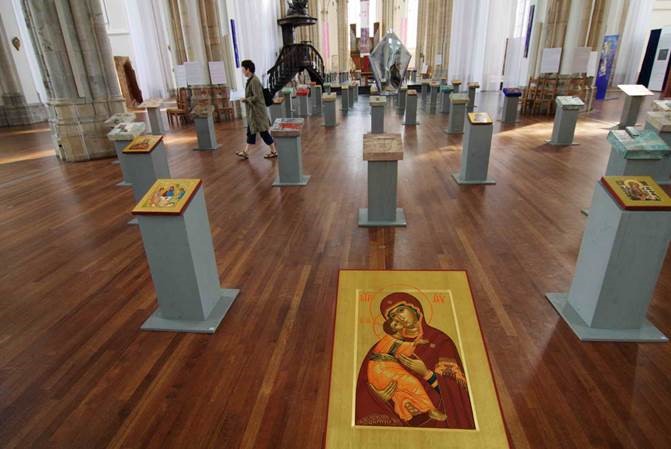 opening reception - all are welcome!
Join us on Saturday, November 19th at 5:00 PM for an Icons in Transformation Opening Reception! Guest speakers will officially open the exhibit from 5-5:30 in the Fellowship Hall—including the artist Ludmila Pawlowska. We are looking forward to welcoming many guests.  The exhibit will be open from 5pm-8pm. There is no charge. Come! Talk to the artist, visit with each other, and most importantly experience the exhibit. The reception is open to everyone. The sign-up sheet will be in the sign up area by the narthex. Light hors d'oeuvres and drinks will be served. This a great opportunity to invite guests. Hope you'll be able to join us.
Lectures will be offered in the Sanctuary at 7 PM on Thursdays December 1, 8 and 15. December 1 we will have Father Dennis Buck presenting on Icons in the Orthodox Church. December 8 we will have Rev. R. Guy Erwin, Ph.D. speaking on religious images and the Medieval Christian Idea of "Seeing" with the Heart as well as the Eye. Lastly on December 15 we will have Rev. Teresa L. Smallwood JD, PhD who will present on Transformative Icons as Theological Epistemology.
Stop by ELC any time between 10 AM – 1PM Tuesday through Thursday  (starting Nov 22 excluding Thanksgiving Nov 24) for a self-guided tour of the exhibit. We will also have docent guided tours available Thursday evenings 4 PM – 8 PM (starting Dec 1) and Sunday afternoon 2 PM – 4 PM (starting Nov 27 excluding Christmas Day Dec 25 and January 1). We can also accommodate private group tours if needed. We would love to share this unique experience featuring over 100 works of art with you!
Admission is free! Donations are welcome.
We will offer a four part concert series on Sundays December 4, 18 and January 8 and 22 at 4 PM in our sanctuary. There will be an organ recital Dec. 4, a concert by the Towne Singers Dec. 18, a choral concert Jan. 8 and a concert by the Appalachian Winds Jan. 22.
The exhibit will end with our closing reception on Saturday January 28 at 5 PM. For more information, or if you would like to get involved in this project, please contact our church office. We would love to hear from you!
Evangelical Lutheran Church

43 S. Church St.
Waynesboro PA 17268
Monday – Thursday: 9:00 AM – 2:30 PM
Friday: 9:00AM – 12:00 PM