To checkout what is going on at ELC, please take a look at our January newsletter, and our January calendar and Worship Assistant schedule.
Each week we send out a weekly e-mail to keep everyone up-to-date on all things ELC!  If you haven't been receiving these updates, please contact the church office.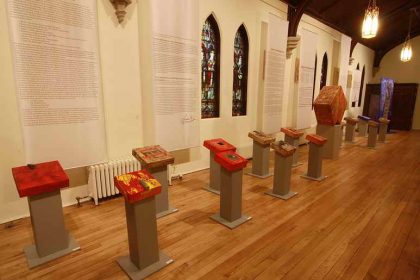 Evangelical Lutheran Church is delighted to announce a powerful and moving art exhibition of 100+ contemporary works by an international artist with Ukrainian roots, Ludmila Pawlowska. Icons in Transformation, will be displayed at ELC from November 19th, 2022 – January 28th, 2023. The exhibit will introduce Pawlowska's masterworks sharing her use of ancient icon methods and techniques, and will present the mystery and spiritual power of the icon transformed into modern masterpieces of art. The exhibit will offer the opportunity to experience the art by Ludmila Pawlowska, set in the sacred space of Evangelical Lutheran Church.
Evangelical Lutheran Church

43 S. Church St.
Waynesboro PA 17268
Monday – Thursday: 9:00 AM – 2:30 PM
Friday: 9:00AM – 12:00 PM